Prewriting
Understand the assignment
In your essay, you will describe an influential historical person.
1 Exercise: Discussion
What does it mean to describe a person? What are the typical ways we describe an average person? How is that the same or different to how we describe a famous person?
What does it mean to be influential?
There are many different ways to have an influence on the world. What issues or topics are you most interested in? Who are some of the famous people connected to those things?
Historical in this prompt means that the person is remembered for years after because of specific contributions or characteristics. Do you think people are remembered most for their actions or way of being?
Who do you think your audience is for this essay? Why would that person be interested in reading your writing?
Brainstorm
A Google search for "influential people" might be a good place to start if you aren't sure who you want to write about. Choose people that you can find research on that is written in English and published in a trustworthy place. Research will be much more plentiful and easy to access if you choose someone who was recognized internationally instead of a local figure.
You may start thinking about types of people that you would be interested in writing about. For example, you could look for athletes, artists, politicians, scientists, explorers, inventors, musicians, philanthropists, etc.
As you brainstorm, you may also find it helpful to make an idea map like the one below.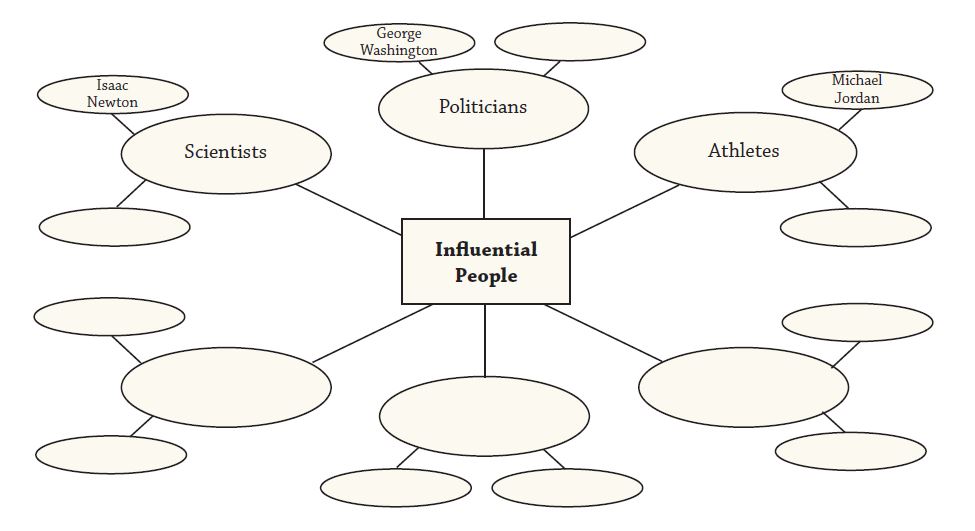 2 Exercise: Brainstorm
Make a brainstorm idea map similar to the one above. Now that you have some options, choose your favorite. If aren't sure which one to talk about, consider the following questions:
Which person am I most interested in learning more about and writing about for a few weeks?
Who on the list would be the easiest/most challenging for me to write about?
Is there a person that would have more sources?
Is there a person I think the audience should know more about?
Are there any options I can eliminate because they are too commonly used as topics?
Choose your focus
Even though it may seem specific enough to have chose a name of a historical figure, you will need to narrow your focus even more. People have complex lives and are often known for many different things. The same historical figure may be viewed as a hero by some and a villain to others. In a 2-3 page essay, you don't have the space to try to give a complete biography for the person.
Focus your essay by deciding what attributes or accomplishments you will talk about. Those will be the focus of your essay even though there may be many other interesting things to say about that person.
3 Exercise: Narrowing the focus
Now that you have selected a person to write about, continue prewriting by deciding what aspects of that person you want to discuss. Create a T chart like the one below to help you organize potential major details:
| | |
| --- | --- |
| Personal characteristics, traits, attributes, etc | Contributions, actions, events, discoveries, inventions, etc |
| | |
You should choose your major details from only ONE side of the chart. Look at each list and decide which one is strongest or most interesting. Choose three of those points to include as your major details.
Research
Encyclopedias can be an excellent place to begin looking for information on a specific person. Remember that after you do enough preliminary research to brainstorm and choose your focus, you should do more detailed research about your topic so that you can make your outline.
Outline
Start with your topic sentences and thesis. Add questions or quotes to help you develop each of your ideas.
Introduction
Your introduction should start by describing any background of the person that will be important for the reader to know. For example, in the introduction paragraph for an essay about Martin Luther King Jr, you might explain the context of what was happening in the 1950's in the United States. A brief description of the racial discrimination of the time would help give your reader valuable background knowledge to understand the role of Martin Luther King Jr. in the Civil Rights movement.
At the end of your introduction paragraph, you should give your thesis. The thesis should describe the person in very specific terms.
Example descriptive thesis statements
Martin Luther King Jr. was a courageous, nonviolent social reformer.

José Joaquín de Olmedo demonstrated his intelligence in many areas, both political and literary, that he contributed in many ways to the city of Guayaquil.

Jorge Luis Borges was one of the most famous writers from Argentina and he was recognized for the passion he had to write, his creativity, and his intelligence.

Kurt Cobain was a legendary grunge musician who inspired people because he was reserved, idealistic, and sensitive.

Rosa Parks was one of the most influential leaders of the Civil Rights movement because of her dignity and bravery.

Ivan the Terrible was considered by some to be a top-notch leader and conqueror, while others considered him a crazy villain.

Homero Gomez, an environmental activist full of love, perseverance and leadership.
Sometimes when you are describing a person from history, you talk about the influence or impact of the person. As you will write a cause/effect essay during this semester, try to focus this essay away from causes/effects. Think about your topic in terms of adjectives. How can you describe your person? What qualities are unique to that person?
1 Exercise: Revise thesis statements
Revise these thesis statements to be more effective for a descriptive essay.
We understand that Ghandi was a spiritual leader for people around the world and could know the best ways to show people how to live and become more peaceful and caring.
First, his concept of leadership, his role in World War II, and at last his legacy.
Let me analyze what makes us remember Madame Curie as an important person in history.
Khalo changed the way women were depicted and percieved in Mexico through her art.
His educational life in Spain at the age of 16 and his married life were two facts in Simon Bolivar's life before he passed away on December 17, 1830, near Santa Marta, Colombia.
Vygostky was one of the forerunners of developmental psychology, and one of the most important works in Psychology and Education was the Zone of Proximal Development.
Body
Your body paragraphs should explain how or why your thesis sentence is true. As you plan each of your body paragraphs, remember that using sources will make your writing more credible and interesting. Use sources properly so that you do not plagiarize. Each of your body paragraphs should have citations.
Conclusion
Your conclusion paragraph should start by restating your thesis. Then, you should speak about the person/event in more general terms and apply their situation to the world more generally. End with a concluding statement.
2 Exercise: Make an outline
Make an outline for the example essay in this chapter.
Think about what you have learned about outlines. Remember that the more details you include now, the easier it will be to create your first draft.
3 Exercise: Revise the outline
Revise the outline on a piece of paper. Make sure the topic sentences support the thesis.
TH: Jose de San Martin released three countries from Spanish rule including Argentina, Chile, and Peru.
TS: San Martin was a good leader because he created a regimen of grenadiers.
TS: San Martin was a freedom seeker.
TH: San Martin truly left an important mark on Argentina and the whole world.
As described in chapter one (see pages 19-20), when your basic outline is finished, you should consider asking some developing questions about your topic sentences to guide additional research.
If your basic outline was about Jane Goodall, it might look something like this:
TH: Jane Goodall was an inquisitive, dedicated natural scientist.

TS: Jane Goodall was very curious and investigated new ideas to answer questions.

TS: Another of Jane Goodall's distinguishing characteristics was dedication to her research.
Some questions that could develop the first topic sentence might include:
Q: How did she show that she was curious?

Q: What new ideas did she investigate?

Q: How did she answer questions with her research?
Be careful to not include questions that are not connected to your topic sentence. If you ask unconnected questions, your paragraph will lack unity.
For example, these questions would not support the first topic sentence about Jane Goodall:
Q: Where was Jane Goodall born?

Q: Why did Jane Goodall want to be a researcher?
4 Exercise: Revise developing questions.
Cross out the developing questions that do not help develop the topic sentence.
Some of the developing questions below don't support the topic sentence or would be better to provide background information in the introduction.
Peyton Manning was a talented leader.
Q: Who was Peyton Manning?

Q: What were some of Peyton Manning's talents that helped him lead others?

Q: How did Peyton Manning show leadership?

Q: What teams did Peyton Manning play on?

Q: What successes did Peyton Manning have in his career?

Q: What did Peyton Manning help his team achieve through his leadership?
Some of your preliminary research may be used to answer your developing questions. Additional research may be required to answer your questions. Remember (see page 20), you may need to adjust your questions based on your research.
Be careful to look for specific quotes that support your claims and are not merely interesting facts. Consider the second topic sentence (and developing question) about Jane Goodall:
TS: Another of Jane Goodall's distinguishing characteristics was dedication to her research.

Q: How did Jane Goodall show dedication to her research?
How can the author show that Jane Goodall was actually a dedicated researcher? A quote like this might help:
"She imitated their behaviors, spent time in the trees and ate their foods" ("Jane Goodall,"2018, "Chimp Behavior Discoveries", para. 1)
This quote could be used to argue that after moving to Africa, she was committed enough to her research that she was willing to live with and eat like her research subjects.
On the other hand, a quote like this shows Jane Goodall's dedication to protecting chimpanzees, but doesn't really support the claim that she was dedicated to her research.
"When she discovered that the survival of their species was threatened by habitat destruction and illegal trafficking, she developed a breakthrough approach to species conservation that improves the lives of people, animals and the environment by honoring their connectedness to each other" (The Jane Goodall Institute, n.d., "Our Story," para. 1).
Everything you read can help to deepen your understanding of the topic you are researching and give greater focus to your writing. However, some of your research may not actually be included in the final draft of your paper because it doesn't fit within the focus of your essay.