5.4
Civil Rights and Equal Protection for Race, Gender, and Disability
Standard 5.4: Civil Rights and Equal Protection for Race, Gender, and Disability
Explain the historical context and significance of laws passed by Congress that have expanded the civil rights and equal protection for race, gender and disability. (Massachusetts Curriculum Framework for History and Social Studies) [8.T5.4]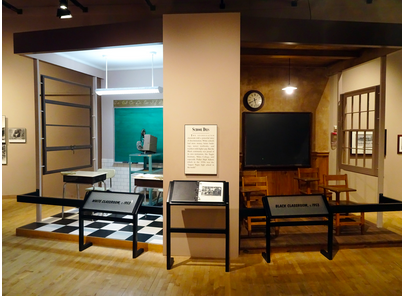 FOCUS QUESTION: How Have Laws Passed by Congress Expanded Civil Rights and Equal Protections for Race, Gender, and Disability?
Throughout United States history, women, people of color, and individuals with disabilities have struggled to gain civil rights and receive equal protection under the law. Actions by Congress to address discrimination and injustice have only occasionally resulted in sweeping legislative action, examples of which are explored in this standard in the areas of civil rights, voting rights, gender rights, and disability rights.
1. INVESTIGATE: Race - The 1964 Civil Rights Law and Voting Rights Act of 1965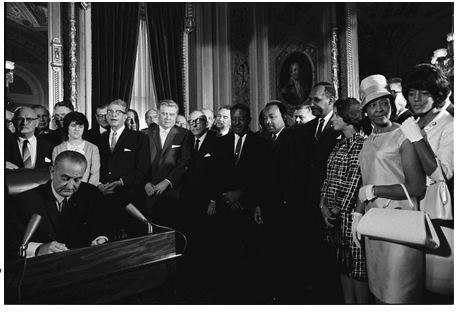 The 1964 Civil Rights Law and the Voting Rights Act of 1965 are two of the most important pieces of civil rights legislation in United States History.
Following the Civil War, the Civil Rights Act of 1866 was the first federal law to declare equal rights under the law for all people living within the jurisdiction of the United States. Since then, there have been periodic efforts by Congress to ensure civil rights for Americans as shown in the following timeline: Constitutional Amendments and Major Civil Rights Acts of Congress, 1865-2006.
Watch on YouTube

https://edtechbooks.org/-gVd
The 1964 Civil Rights Act outlawed discrimination on the basis of race, color, religion, sex, or national origin, required equal access to public places and employment, and enforced desegregation of schools and the right to vote.
Learn more about the Civil Rights Act of 1964 from the Wisconsin Historical Society.
In 2020, in the Bostock v. Clayton County, Georgia case, the Supreme Court held that the 1964 Civil Rights Act banned discrimination based on sexual orientation or gender identity. The case involved two gay men and one transgender woman who were fired by their employers based on their sexual and gender expression. Writing for the 6 to 3 majority, Justice Neil Gorsuch said, "when an employer fires an employee for being homosexual or transgender, it necessarily discriminates against the individual in part because of sex" (Syllabus, p. 3). The decision was considered a landmark ruling for LGBTQ rights.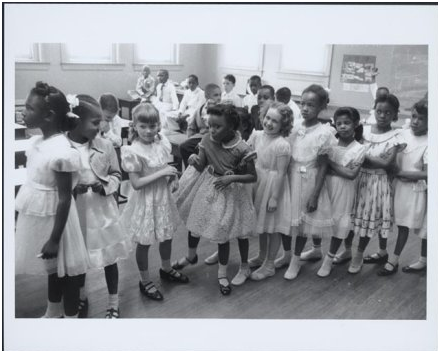 The 1965 Voting Rights Act was designed to "ensure state and local governments do not pass laws or policies that deny American citizens the equal right to vote based on race."
Read an overview of the Voting Rights Act from the Brennan Center for Justice.
Suggested Learning Activities
Engage in Civic Action: Propose a 21st century civil rights or voting rights law
Online Resources for the Voting Rights Act
2. INVESTIGATE: Gender - Title IX of the Education Amendments of 1972
In 2019, 12-year-old Maddy Freking became only the 19th girl to play baseball with boys in the 72 year history of the Little League World Series; the first girl played in 1984 (learn more: A brief history of the 19 girls who have played in the Little League World Series). Maddy's opportunity to play has its roots in Title IX, a landmark civil rights law prohibiting discrimination based on gender at educational institutions that receive federal funding.
Title IX declared: "No person in the United States shall, on the basis of sex, be excluded from participation in, be denied the benefits of, or be subjected to discrimination under any education program or activity receiving Federal financial assistance" (as cited in Harvard Title IX, 2020, para. 2)
Watch What is Title IX, a video from CNN, to learn more about this landmark law.
Most of us think in terms of how Title IX has transformed athletics and sports for girls and women. Before Title IX, only one in 27 girls participated in high school sports; by 2019, the number was two in five.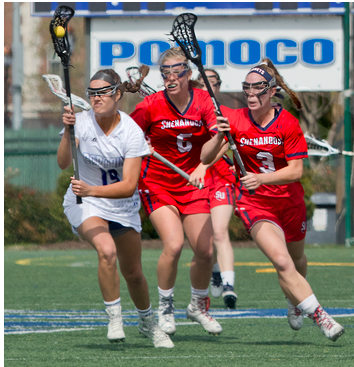 But sports was not the only area of gender relationships impacted by this law. Before Title IX, only 7% of law degrees and 9% of medical degrees were earned by women. Currently women earn 47% of law degrees and 48% of medical degrees. Furthermore, by prohibiting sexual discrimination, Title IX made verbal or written harassment, sexual assault, stalking, and domestic violence crimes, greatly enhancing safety for women.
Suggested Learning Activities
Analyze Gender Stereotypes in Works of Art

Use art resources from Can Girls Do That? Wadsworth Atheneum Museum of Art
Students make their own portraits that prove that stereotypes are not always accurate.
Online Resources for Title IX and Combating Gender Stereotypes
2.1. ENGAGE: When Can Girls and Boys Compete Together in Athletic Events?
While girls in this country have always played sports and games for fun, formal athletic participation and competition for women did not happen until the 1880s with the forming of separate clubs where females could play tennis, croquet, bowling and archery—although often under different rules than for men.
The first intercollegiate basketball game between women teams was played in 1896 (Bell, 2008).
The first women's amateur golf tournament was held in 1895. Women's hockey teams started in the 1910s and 1920s, particularly in Canada and the Pacific Northwest.
Women's hockey was added as an Olympic event in 1998.
The first professional sports league for women, the All-American Girls Baseball League (showcased in the movie A League of Their Own) was started in 1943, during World War II.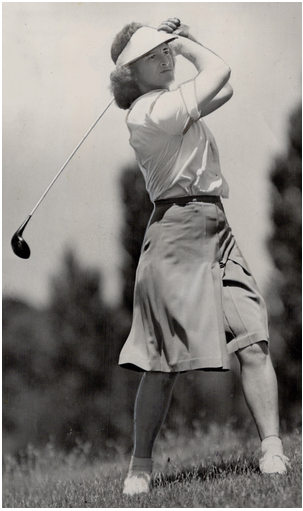 The nation's most prominent mid-20th century woman athlete was Babe Didrikson Zaharias. A multisport star in track and field events (shot put, hurdles, and high jump), baseball, and golf, she set numerous records in different sports and could outperform males in each (About "Babe" Didrikson Zaharias).
Didrikson qualified for all five individual women's track and field events in the 1932 Olympics, but was allowed to compete in only three of them. The Ladies Professional Golf Association (LPGA) was established in 1950; Babe Zaharias as one of the original 13 founders. For more on her life and times, visit the resourcesforhistoryteachers wiki page, Babe Didrikson Zaharias, Woman Athlete and Equality Pioneer.
Today, more than two in every five girls participate in high school sports, spurred on in part by the achievements of Serena and Venus Williams, Simone Biles, Mikaela Shiffrin, Alex Morgan, Lindsey Vonn, Michelle Wie, Danica Patrick and many others. Still participation in high school sports by boys (4,565,580) exceeds girls (3,415,306) by more than a million participants (National Federation of State High School Associations, 2018).
Girls increasing participating in school sports has raised complex Title IX and 14th Amendment issues of sex and gender in two areas. First, should girls and boys be allowed to compete against one another in the same athletic activities? Adult women and men compete against one another in many sports today including Equestrian events, horse racing, Ultimate Frisbee, car racing, sailing, surfing, and mixed team events in tennis, golf, and badminton. The Women's Sports Foundation contents coeducational sport competition should be encouraged in middle and high schools when there are equal numbers of females and males and rules that "maxmize fair competition between the sexes." The Foundation also believes schools must allow girls to try out for boys' teams in contact or non-contact sports, which is the law in some but not all states. There are educational and parent organizations that strongly disagree with this position.
Second, should students be allowed to participate in athletics based on their gender identity? In May 2020, the federal Education Department's Office or Civil Rights found that a state of Connecticut policy allowing transgender students to compete on female track teams "denied female student athletes athletic benefits and opportunities" and threatened to withhold funding to the state's Interscholastic Athletic Conference (Levenson & Vigdor, 2020, p. 29). Transgender rights groups strongly opposed the ruling, arguing that students who identify as female are female and must be allowed to participate under Title IX guarantees. The case has national implications; earlier in 20202, Idaho banned transgender girls from participating in women's sports. The state also legalized sex testing of athletes before competing.
Suggested Learning Activities
Propose Change at Your School

How would you provide girls with more opportunities to play sports in school?
State Your View: Should girls, boys and transgender students compete against one another in school athletic events?
Online Resources for Mixed Gender Sports and Games
3. INVESTIGATE: Disability - The Americans with Disability Act of 1990
The Americans with Disabilities Act (ADA) is a "civil rights law that prohibits discrimination against individuals with disabilities in all areas of public life, including jobs, schools, transportation, and all public and private places that are open to the general public" (What is the Americans with Disabilities Act?, 2020, para. 1). The first disability law enacted in the United States was Section 504 of the 1973 Rehabilitation Act. It prohibited discrimination against people with disabilities in programs that receive federal financial assistance, and set the stage for enactment of the Americans with Disabilities Act.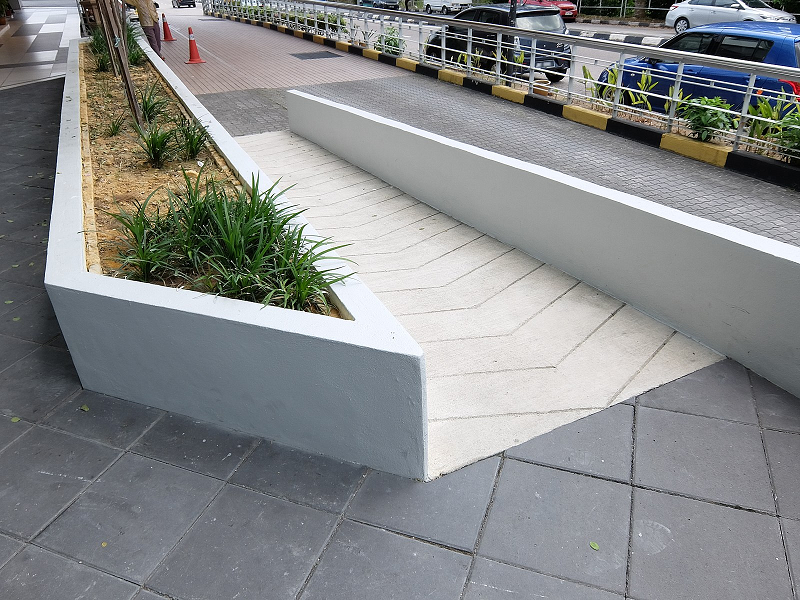 Signed into law by President George H. W. Bush in 1990, the ADA is a milestone achievement in the civil rights struggle by individuals with disabilities and exceptionalities. ADA changed the everyday lives of millions of Americans. People with disabilities no longer had to abandon their wheelchairs to ride a train or bus; a restaurant or grocery store could no longer refuse to serve a disabled person; individuals could not be blocked from employment because of their disability or paid less money for the same work; homosexuals could not longer be labeled disabled (Lombard, 2015).
Here is the entire text of the law, as amended. Other important legislation include the Individuals with Disabilities Education Act (IDEA) in 1990 and the Americans with Disabilities Amendments Act in 2008. There are more resources at the Disability Rights and Justice Movement and the Disability History Museum.
Suggested Learning Activity
Document, Research, and Propose Action

Review the Global Disability Rights Now document: Improving Accessibility of Schools.
Photograph or sketch a map showcasing all the ways the physical and instructional learning environments of your school have been changed to accommodate the needs of disabled students and adults.
Discuss: What still needs to be changed to ensure full and equal participation for all?
Write a proposal or create a presentation to propose changes to your school administrators about increasing the accessibility of your school building and learning environment.
Online Resources for the Americans with Disability Act and Disability History
3.1. UNCOVER: Helen Keller, Author and Political Activist
Deaf, blind, and unable to speak after an illness as an infant, Helen Keller devoted her life to supporting progressive causes, fighting for women's rights, and opposing discrimination against people with disabilities.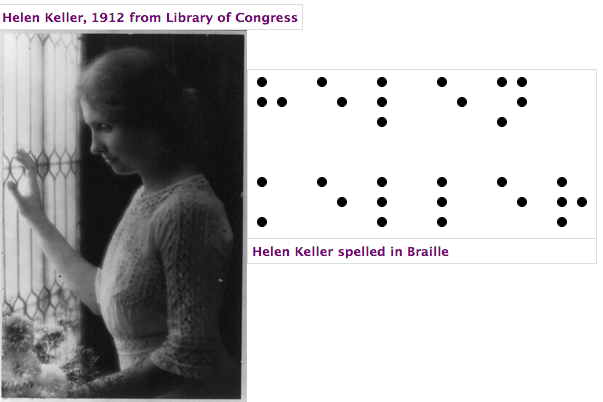 Helen Keller advocated for women's suffrage, birth control, and pacifism. She became a socialist and a member of the Industrial Workers of the World (IWW). To learn more about her political views, read How I Became a Socialist (1912).
A statute of her, based on a scene from the movie A Miracle Worker, was added to the National Statuary Hall in Washington, D.C. in 2009. For more information, explore the resourcesforhistoryteachers wiki page Helen Keller, Author and Political Activist and the Helen Keller Archive from the American Association for the Blind.
Suggested Learning Activities
Read and Report Out

Explore the Helen Keller Political Activities section of her Wikipedia page
List four causes for social justice Helen Keller supported during her lifetime.
Have you been taught about Keller's life-long political activism in school?
If not, write a proposal to a teacher or school administrator advocating for the inclusion of Keller's political activism in school curriculum.
Analyze Primary Sources

Explore Helen Keller's FBI Files
Why do you think Helen Keller was investigated by the FBI for her political views?
Why were opposition to war, support for socialism, and commitment to revolutionary change such controversial topics in American society, then and now?
Standard 5.4 Conclusion
The modules for this standard examined late 20th century laws passed by Congress that expanded civil rights for people of color, women, and individuals with disabilities. INVESTIGATE reviewed the 1964 Civil Rights Act and the 1965 Voting Rights Act; Title IX of the Education Amendments of 1970; and the Americans with Disabilities Act of 1970. UNCOVER explored the career and political activism of Helen Keller. ENGAGE asked when can girls and boys compete together in athletic events.
End-of-Chapter Survey
: How would you rate the overall quality of this chapter?
Very Low Quality
Low Quality
Moderate Quality
High Quality
Very High Quality
Comments will be automatically submitted when you navigate away from the page.