6.7
Responsibilities of Federal, State and Local Government
Standard 6.7: Responsibilities of Federal, State and Local Government
Contrast the responsibilities of government at the federal, state and local levels. (Massachusetts Curriculum Framework for History and Social Studies) [8.T6.7]
In the United States, there is one federal government, 50 state governments, 89,004 local governments, 573 American Indian tribal governments, and 5 territorial governments. These different governments directly affect the lives of people who live in the areas governed by the laws passed and the actions taken.
1. INVESTIGATE: The Functions of State and Local Government
Local, tribal, and territorial governments in the United States plan and pay for most roads, run public schools, provide water, organize police and fire services, establish zoning regulations, license professions, and arrange elections for their citizens.
Local governments work in connection with their state government, and sometimes those governments do not agree. Sanctuary city declarations, all gender restrooms, minimum wage laws, fracking policies, ride-hailing company regulations, and red light cameras at traffic lights are a few examples where local and state governments may disagree. Disagreements are furthered by the fact that most states are controlled by Republicans while most cities (where two-thirds of all Americans live) are controlled by Democrats. Nevertheless, legally and constitutionally, state governments have power over local governments.
The COVID pandemic accentuated disagreements between state and local governments. Throughout 2020 and 2021, local officials have both defied emergency health restrictions set by states and implemented local health policies in defiance of state orders not to do so. At the end of 2020, in the state with the lowest coranavirus numbers in the country, the Stamford Vermont town selectboard voted to "terminate" the state governor's face-mask requirements, quarantine rules, and family and public gathering restrictions. The 3 to 2 majority claimed the governor's orders violated the town's constitutional right to opt-out of emergency declarations.
Broadly speaking, however, communities do not have the right to defy a state order, as established by the 1905 Jacobson v. Massachusetts Supreme Court decision discussed in the next section. However, as the American Bar Association points out, "In judging a governor's or local official's authority to exercise such powers under the 10th Amendment, Supreme Court decisions require a "compelling governmental interest" be shown and evidence that the action has been narrowly tailored to achieve that interest."
2. UNCOVER: COVID-19, Vaccinations, Face Masks, and Jacobson v. Massachusetts (1905)
The COVID-19 pandemic has generated intense debates over whether state, local, or national governments can mandate vaccinations as well as require face masks and/or social distancing as public health policies that everyone must follow.
Basically, the federal government cannot mandate vaccinations, but state governments have the authority to do, particularly for health workers and essential employees, because states are required to "provide for the public health, safety, and morals" (An Overview of State and Federal Authority to Impose Vaccination Requirements, Congressional Research Service, May 22, 2019). Vaccination policy matters greatly since in early 2021 nearly 25% of the population say they will probably not or definitely not get a vaccine when it is made available to them.
Disputes over vaccinations as matter of health policy are not new historically.
Vaccinations
In 1809, the town of Milton became the first Massachusetts community to offer free smallpox vaccinations. The town of Milton's action was followed that same year by a state law requiring smallpox vaccination, making Massachusetts the first state in the nation to promote the use of vaccination as a public health policy. Since then, advances in medical science have enabled physicians to use vaccinations to treat previously incurable diseases, including Avian Cholera (1879); Rabies (1885); Polio (1955); Measles (1963), and Mumps (1967) (Vaccine History: Developments by Year, Children's Hospital of Philadelphia).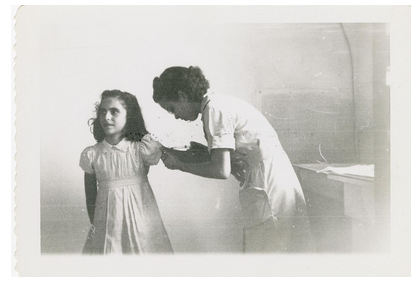 In a landmark case, Jacobson v. Massachusetts (1905), the Supreme Court upheld the authority of states to enforce compulsory vaccination laws, confirming the "state's duty to guard and protect . . . the safety and health of the people." Wrote the Court, "Upon the principle of self-defense, of paramount necessity, a community has the right to protect itself against an epidemic of disease which threatens the safety of its members" (quoted in Face-Covering Requirements and the Constitution, Price & Diaz, American Constitution Society, June 2, 2020).
Today kindergarten through 12th grade students in Massachusetts are required to be immunized with DTaP/Tdap, polio, MMR, Hepatitis B, and Varicella vaccines. Religious and medical exemptions are granted to individuals and families in a small number of cases.
Masks and Face-Coverings
Mask-wearing is and has been a contested public policy. During the 1918-1919 influenza pandemic, there were mask-wearing ordinances, particularly in states in the western part of the United States, including the cities of San Francisco, Seattle, Oakland, Sacramento, Denver, Indianapolis, and Pasadena. Masks were of poor quality by today's standards; people wore gauze or other similarly light fabrics (learn more: The Flu in San Francisco from PBS American Experience).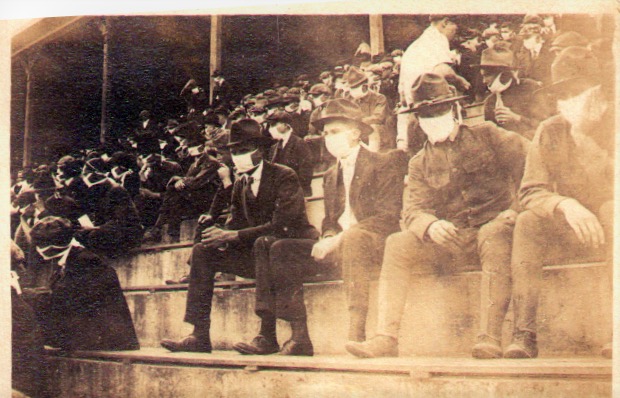 Though enforcement of mask-wearing rules was relatively lax, there were citations and fines. There was also organized resistance, including the Anti-Mask League of 1919. For more on this hidden history, explore "The Mask Slackers of 1918," The New York Times (August 3, 2020).
In 2020, opposition to mask-wearing became a centerpiece of Donald Trump's unsuccessful campaign for a second term as President. Groups across the country opposed mask-mandates - citing disruption for businesses and violations of personal liberties. In some places, reactions were extreme - there were credible threats against the life of Michigan Governor Gretchen Whitmer for her responses to the pandemic in that state.
Can the President or Congress enact a nationwide mask mandate? The independent Congressional Research Service concluded Yes (August 6, 2020), each branch has authority to do so, although the political will may not be there for this to happen. At present, mask-wearing essentially depends on people's willingness to cooperate with requests to do so. As of December 2, 2020, 37 states have mandated face covering in public - meaning both public indoor and outdoor spaces.
Left undecided is what to do with those who choose not to comply with mask mandates. There could be fines for individuals not wearing face covering or fines and suspensions for businesses that serve customers without masks. Such penalties exist already for individuals caught not wearing seat belts or not observing smoking bans or businesses who sell alcohol or cigarettes to underage buyers.
Online Resources on the History of Pandemics and Vaccines
3. ENGAGE: What Single-Use Plastic Items Should Local Governments Ban to Help Save the Environment?
In the article How Plastics Contribute to Climate Change, Claire Arkin commented "Plastic pollution is not just an oceans issue. It's a climate issue and it's a human health issue," (Bauman, 2019, para. 2). The creation, use, and incineration of plastics has a significant impact on the environment, including using up finite fossil fuels, increasing greenhouse gas emissions, filling up landfills, increasing the number of pollutants in the air, and harming or killing animals.
Experts, including the 2018 United Nations Intergovernmental Panel on Climate Change, agree that urgent governmental action—nationally, internationally, and locally—is needed to try and reverse the effects of human impact on the environment. People, as well as governments, are concerned about climate change and global warming. A 2018 study by researchers from Yale University and George Mason University found that "seven in ten Americans (73%) think global warming is happening, an increase of ten percentage points since March 2015; six in ten understand it is human-caused" (Climate Change in the American Mind, p. 3).
In response, local and state governments across the country are adopting laws intended to help save the environment. Establishing rules and regulations about single-use plastic containers is one place to begin addressing climate change. National Geographic reports that nearly half the plastic ever made has been produced since 2000 while less than a fifth of plastic trash is recycled (Parker, 2018). Worldwide, one million plastic bottles are purchased every minute, 91% of which are not recycled (Nace, 2017). In the United States, one billion toothbrushes (most of which are plastic and not biodegradable) are discarded every year (Goldberg, 2018).
More than 300 communities in California, Hawaii, Puerto Rico, and American Samoa, and 55 countries have banned or charge fees for the single-use plastic bags (Funkhouser, 2019). New York State's plastic bag ban will go into effect in March 2020.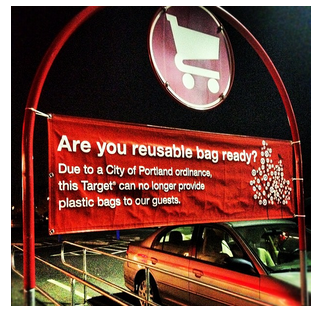 Additional Government Actions to Address Climate and Environment
State and local governments are taking multiple steps to respond to the climate and environment crisis:
It is estimated 500 million plastic straws are used and thrown away daily in the U.S. In response, communities in California, Washington, New Jersey, Florida and Massachusetts have banned plastic straws.
The city of Cambridge, Massachusetts has become the first city in the country to mandate climate warnings on gas pumps. The goal is to make drivers think about the impacts of gasoline consumption right at the point of purchase.
Researchers urge governments to charge property owners for leaf and brush pickups, restrict use of leaf blowers, plant more trees, shrubs, and grasses (Yale Climate Connections, 2019).
California and Washington state have taken a lead on requiring net-zero buildings with solar panels, high efficiency windows and insulation, and reduced gas-powered systems (Audobon Magazine, Fall 2019).
Which of these actions do you think will be most effective and why? What other actions would you propose be taken?
Online Resources for Environmental Action and Climate Justice

Standard 6.7 Conclusion
The nation's federal, state, local, tribal and territorial governments have overlapping and sometimes competing goals and policies. INVESTIGATE examined the responsibilities of government at the state and local levels. UNCOVER looked at the history of Massachusetts state government efforts to mandate vaccinations. ENGAGE asked students to consider the roles local governments can and should play in reducing plastic consumption, waste, and pollution.