AVG 2.2 Learning WIDA's purpose and philosophy
Gathering Information from a Media Presentation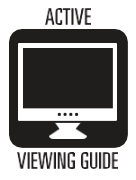 Think About
Click on the following link to watch a video of a PowerPoint about WIDA.
Use the Active Viewing Guide 2.2 to take notes. Click the link and download it to work on it. Be prepared to discuss with your group:
What is WIDA?
How can it help me better build on, strengthen, and support the learning of ELs in my classroom?
How is WIDA applicable to my classroom, content, and teaching?