Appendix B
HyFlex Technology Example - Waubonsee Community College in Illinois
Below is an example that shows one program's HyFlex technology. This example shows one high-end technology solution that may be of interest to some programs to consider.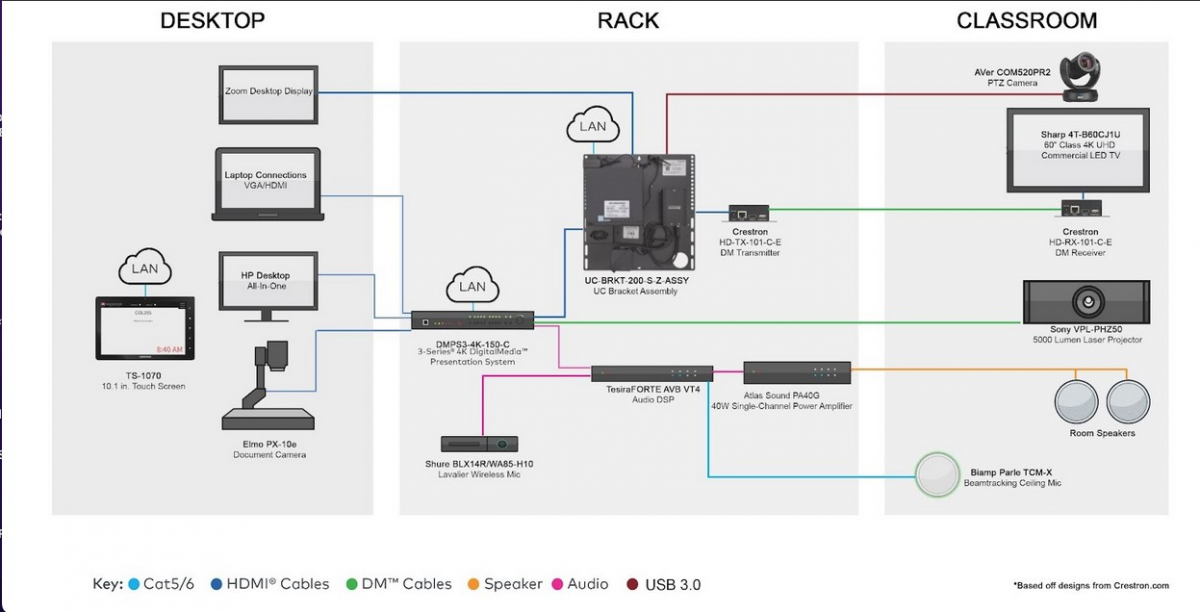 Waubonsee Community College Flex Rooms
Standard media classrooms are equipped with:
Crestron DMPS3-4K-150-C 3-Series® 4K DigitalMedia™ Presentation System 150
Elmo PX-10e Document Camera
Sony VPL-PHZ50 5000-Lumen WUXGA 3LCD Laser Projector
Sharp 4T-B60CJ1U 60-inch Class 4K UHD Commercial LED TV
Flex adds the following:
Crestron UC-C100-Z Crestron Flex UC Video Conference System Integrator Kit
Aver COM520PR2 High Definition 12x USB PTZ Conference Camera
Biamp TesiraFORTE AVB VT4 4x4 Fixed Audio Server with AEC
Biamp Parle TCM-X White Beamtracking Ceiling Microphone Array
Shure BLX14R/WA85-H10 Lavalier Wireless Microphone System (optional)
From scratch, each room would total around $16,000 (plus any installation labor). However, the real pricing for individual rooms varies greatly since many/most already have some of the equipment already.

CC BY-NC-SA: This work is released under a CC BY-NC-SA license, which means that you are free to do with it as you please as long as you (1) properly attribute it, (2) do not use it for commercial gain, and (3) share any subsequent works under the same or a similar license.