4
Elementary Education: Intro to Blended Teaching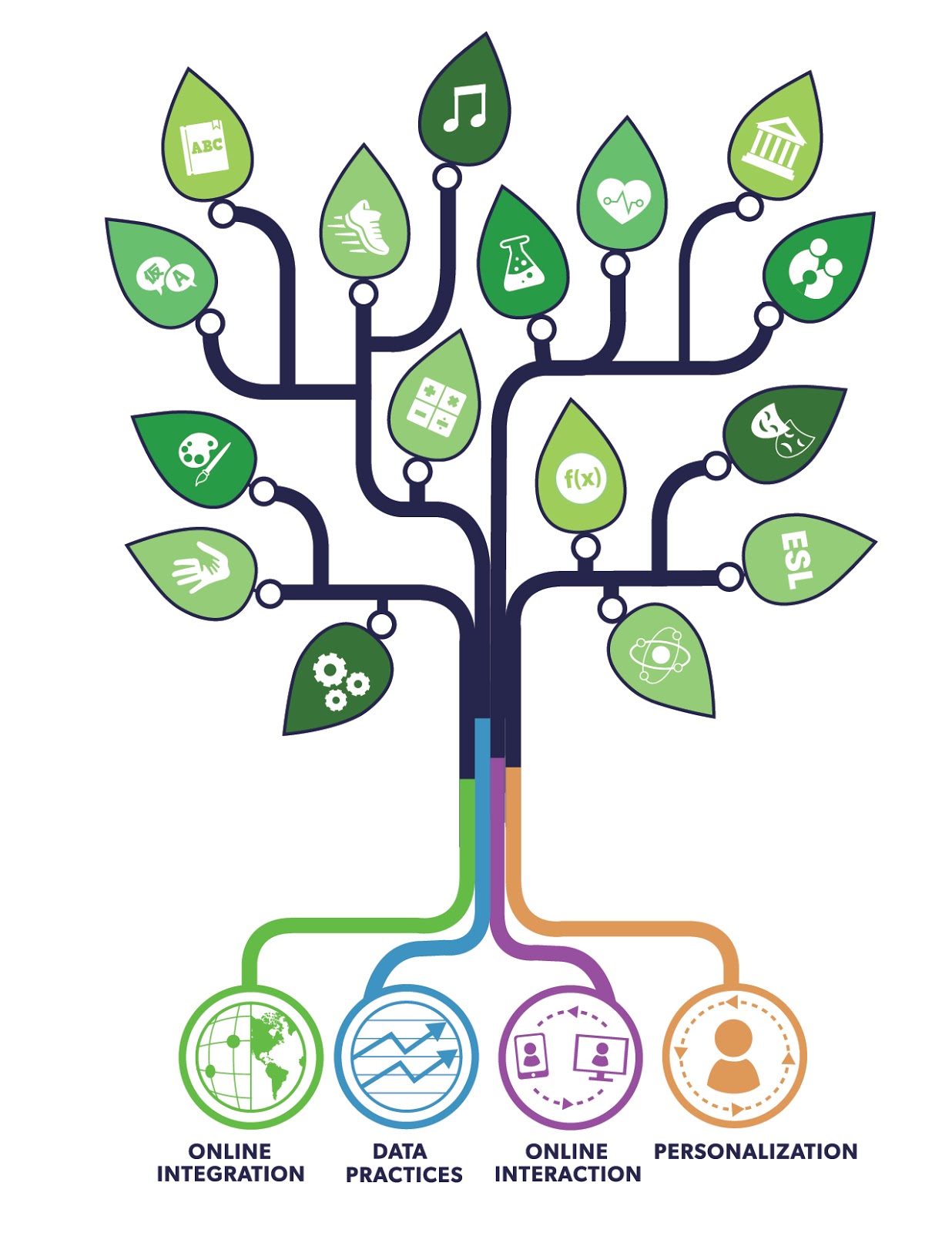 The purpose of these chapters are to help you prepare to design and implement blended learning within the Elementary Education (ElEd) classroom. The image on the cover of the book shows a broad range of disciplines, each represented by a branch of the tree. The four core skills for blended teaching are represented by the common roots of the tree that feed the branches.
While there are some broad commonalities in how blended learning looks across contexts, there are also many subtle and unique approaches to blended teaching within each grade level. As a result, this set of chapters is geared towards providing examples of blended teaching that are specific to the ElEd classroom.
In these chapters we also use examples from practicing teachers. They will help you see blended teaching in the ElEd context through the lens of the following blended teaching competencies: online integration, online interaction, data practices, and personalization.
4

.2 Meeting the Elementary Education Blended Teachers

In these chapters, you will receive instruction and ideas from experienced ElEd teachers. Learn more about some of these teachers below.

Let's start in the next chapter with learning why we might want to blend an ElEd classroom.
Suggested Citation
Borup, J., Joskow, B., Chambers, C., & Sandrowicz, N. (2022). Elementary Education: Intro to Blended Teaching. In C. R. Graham, J. Borup, M. Jensen, K. T. Arnesen, & C. R. Short (Eds.), K-12 blended teaching (Vol 2): A guide to practice within the disciplines. EdTech Books. https://edtechbooks.org/k12blended2/intro

Previous Version(s)

,

Joskow, B.

,

Chambers, C.

, &

Sandrowicz, N.

(in progress). Elementary Education: Intro to Blended Teaching. In

,

,

,

, &

(Eds.),

K-12 Blended Teaching (Vol 2): A Guide to Practice Within the Disciplines , 2

. EdTech Books.

https://edtechbooks.org/-GYE

CC BY: This work is released under a CC BY license, which means that you are free to do with it as you please as long as you properly attribute it.
End-of-Chapter Survey
: How would you rate the overall quality of this chapter?
Very Low Quality
Low Quality
Moderate Quality
High Quality
Very High Quality
Comments will be automatically submitted when you navigate away from the page.
Like this? Endorse it!