7.1: Press Freedom in the United States and the World
Journalists and citizens have faced restrictions on the Freedom of the Press throughout United States history. Freedom of the Press is considered one of the most important American rights. Yet according to the World Press Freedom Index, the United States ranks 45th among 180 countries in terms of press freedom.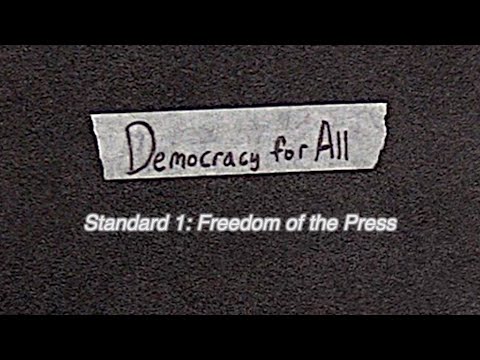 Watch on YouTube https://edtechbooks.org/-Vxv
Explore the interactive "Press Freedoms Around the World" lesson by Checkology (News Literacy Project) to learn more about the freedom of the press on a global scale.
In this activity, you will act as an expert advisor tasked with helping the U.S. improve its World Press Freedom Index ranking.
Activity: Improve the United State's World Press Freedom Ranking
Read through the ratings on the World Press Freedom website to critically analyze why the U.S. received its ranking.
Evaluate the U.S. in comparison to other countries, particularly those above and below it on the list.

Note the different factors mentioned in the rankings that determine what makes the press more or less "free."

Provide a list of 3-4 recommendations for how the U.S. can rise in the rankings, making sure to cite examples from other countries you found during your research.
Publish your recommendations in an infographic on Canva, a Public Service Announcement video or podcast, or a social media post to be viewed by the public.

Make sure the design clearly and effectively communicates your message.

Share what you created with the class and compare and contrast the different recommendations you all contributed.
Additional Resources:
Connecting to the Standards

CC BY-NC-SA: This work is released under a CC BY-NC-SA license, which means that you are free to do with it as you please as long as you (1) properly attribute it, (2) do not use it for commercial gain, and (3) share any subsequent works under the same or a similar license.