6.4: Your Privacy on Social Media
A person's right to privacy has become a contentious issue with regards to the information and data that is collected by technologies, social media platforms, and digital tools and apps. Social media sites collect your personal information as soon as you register. Websites use trackers to capture and share your data. Apps that you download can track your location and even share it with authorities.
How protected is your data online? Explore the New York Times article "I Visited 47 Sites. Hundreds of Trackers Followed Me" and then watch the video embedded below (Adam Ruins Everything - The Terrifying Cost of "Free" Websites).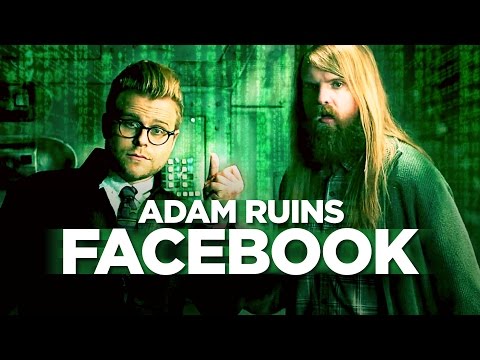 Watch on YouTube https://edtechbooks.org/-ovcW
Privacy means freedom from "interference or intrusion" while information privacy is having "some control over how your personal information is collected and used" (International Association of Privacy Professionals, 2021, para. 1).
Information privacy is central to our everyday experiences during what Harvard Business School professor Shoshana Zuboff (2019) calls the current age of "surveillance capitalism." This digital-age form of profit-making "unilaterally claims human experience as free raw material for translation into behavioral data" (Zuboff, 2019, p. 8). Google, Amazon, Facebook, and other technology firms have organized their businesses around collecting and selling people's personal information. Apps, search engines, and even smart appliances, track users' online activities. Manufacturers and advertisers buy that data and use it to target products to consumers. In Zuboff's (2019) view, your private information is used to create "prediction products that anticipate what you will do now, soon, and later" (p. 8).
While the Constitution has no explicitly stated right of privacy, courts have ruled that there is, in the words of Supreme Court Justice William O. Douglas, a "zone of privacy" that includes privacy of beliefs (established by the First Amendment), privacy of the home (Third Amendment), privacy of one's person, possessions, papers, records (Fourth Amendment ), and personal liberty (Fourteenth Amendment). Learn more at The Right of Privacy from the Exploring Constitutional Conflicts website by the University of Missouri Kansas City School of Law.
In the following activity, you will review the privacy policies of various websites, apps, and social media platforms and then, based on what you learn, propose an amendment to the Constitution that focuses on the right to privacy in digital settings.
Activity: Propose an Amendment for the Right to Privacy in Digital Settings
Conduct a research study in which you review the privacy policies and terms of service of at least 3 social media platforms (e.g., TikTok, Facebook, Twitter, Instagram, YouTube), 3 apps that you have downloaded, and 3 websites that you visit often.

What personally identifiable information is collected (e.g., location data? IP address? demographic data? browsing history?)?
How is the personally identifiable information protected by the company? Does their privacy policy explicitly state how they protect and secure your data?
How is the personally identifiable information used by the company? Do they use it for internal benefits (e.g., improving their user interface)? Sell it to third-party companies? Share it with authorities?

Then, explore the length of the Terms of Service of 14 popular apps. Why do you think these agreements are so long?
Next, consider what personal information you are willing to share by using the Data, Privacy, and Identity Drag and Drop Cards.
Watch "What do tech companies know about your children?" by Veronica Barassi.
Finally, based on what you discovered during your research, write a proposal to add an Amendment to the U.S. Constitution that focuses on giving people the explicit right to privacy in digital settings.
Additional Resources:
Connecting to the Standards

CC BY-NC-SA: This work is released under a CC BY-NC-SA license, which means that you are free to do with it as you please as long as you (1) properly attribute it, (2) do not use it for commercial gain, and (3) share any subsequent works under the same or a similar license.