4.12: Media Recruitment of Public Sector Workers
The public sector is the part of the United States economy that is owned and operated by federal, state, and local governments. It includes governmental agencies, police and fire departments, public schools and colleges, the military, and other agencies and departments. The U.S. Post Office, National Parks, the Internal Revenue Service (IRS), and the Federal Bureau of Investigation (FBI) are all part of the public sector.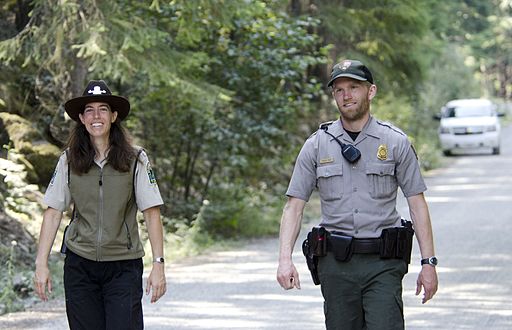 State and local governments are currently experiencing enormous challenges in recruiting workers for public sector jobs. An ongoing "silver tsunami" (the steady retirement of older baby boom-age workers) combined with a decline in job applications due to the COVID-19 pandemic has created a significant number of public sector employment openings throughout the country. And, the public sector is facing increasingly stiff competition from the private sector organizations for highly talented professional, managerial, and technical workers, especially those with two- and four-year college degrees.
In these activities, you will design a job recruitment commercial and social media post to influence others to pursue careers in the public sector.
Activity 1: Design a Public Sector Job Recruitment Commercial
Imagine you work for a state government that has a significant shortage of workers in a certain public service sector (education, agriculture, postal service, transportation, etc...). In this activity you will create a TV or online commercial to recruit adults to pursue careers in that public sector area.
Start by curating a Wakelet, Padlet, or Google slides collection of TV and online (e.g., YouTube, social media) commercials for public sector and private sector jobs.
Use the Teacher and Student Guide to Analyzing Advertisements to take a deep dive into learning more about the production, design, and messaging of the commercials you found.
Then, apply the design and persuasion techniques that you uncovered during your critical analysis to create your own job recruitment commercial.

Select a public sector job and conduct research to learn more about who works in that field and why they work there (e.g., what are their goals?).
Next, write a script and design a storyboard using the following prompts as a guide:

Why is the job important to this state/country?
What might happen if there is a shortage of workers and how will that influence people/society?
What is the projected future landscape and growth potential of the job?

Finally, use digital tools or apps to turn your script and storyboard into a TV or web commercial.
Activity 2: Post About Public Sector Jobs on Social Media
Additional Resources

CC BY-NC-SA: This work is released under a CC BY-NC-SA license, which means that you are free to do with it as you please as long as you (1) properly attribute it, (2) do not use it for commercial gain, and (3) share any subsequent works under the same or a similar license.