Representations of Native Americans on Film and in Local History Publications
More than 8 million American Indian and Alaska Native people live in the United States today, and those numbers are projected to rise to 10 million by 2060 (Indian Country Demographics, National Congress of American Indians, June 2020).
Most students, however, learn little about Native peoples in schools. The indigenous education organization IllumiNative reports that most (87%) state level history standards do not address Native history past 1900.
Much of what students do learn about Native history comes from the media. Hollywood movies and network television shows have long portrayed First American indigenous people in grossly stereotypical terms. Men are depicted as warriors and medicine men. Women are portrayed as either objects of desire or inconsequential members of a tribe. Native peoples are often shown as living in the wilderness or on reservations even though 60% of today's American Indian and Alaska Native population live in cities (5 Common Indigenous Stereotypes in Film and Television, ThoughtCo., January 2021).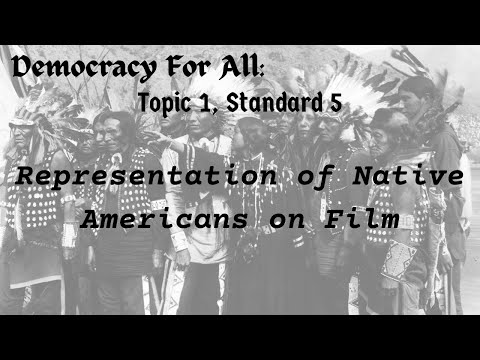 Watch on YouTube

https://edtechbooks.org/-KQNE
These activities ask you to critically consider how Native peoples have been represented in films and how those representations have shaped people's attitudes.
Activity 1: Analyze how Native Americans are Portrayed in Movies
Compare the representation of Native Americans in 'Smoke Signal' by Chris Eyre to 'Alone Yet Not Alone' by Ray Bengston and George Escobar.
Then, consider:

What characters are the focus of each film?
What is the attitude towards Native Americans?
What stereotypes are upheld in each film? Stereotypes can be used to exoticize groups - is this idea apparent in the films?
Whose point of view is represented?
Who directed these movies and who acted in them?

Design a video, podcast, or website to present your findings and inform others about how Native Americans are portrayed in movies.
Activity 2: Design a Film or TV show About Native Americans' Influence on the U.S. Government
Explore the following resources:
Then, write a script for a movie or television show that portrays Native Americans accurately and showcases how Native American government shaped the U.S. government.

Consider:

What is the name and setting of the movie or show?
Who are the main characters and what are their lives like?
What is the primary issue or conflict in your story?
Activity 3: Research & Redesign the First American History of the Place Where You Live Today
Our college, the University of Massachusetts Amherst, is built on the lands and waters of the Kwinitekw Valley, home to the Nonotuck peoples and all their relations. Who were the First Americans who lived where you now live?
Analyze how local websites (e.g., school website, town/city council website) and history materials (e.g., guidebooks and tourist promotion materials; school system curriculum) present First Americans who were the original owners of the land on which you live today.

What imagery, if any, do they use to portray First Americans? Are the images positive or negative? What is emphasized in the images? What is left out?
What language is used to describe First Americans? Is the language positive or negative? What information is presented? What information is left out?

Design or redesign a historical webpage for your school/town to present an accurate representation of the First Americans who made your community their homelands.
Additional Resources
Connecting to the Standards