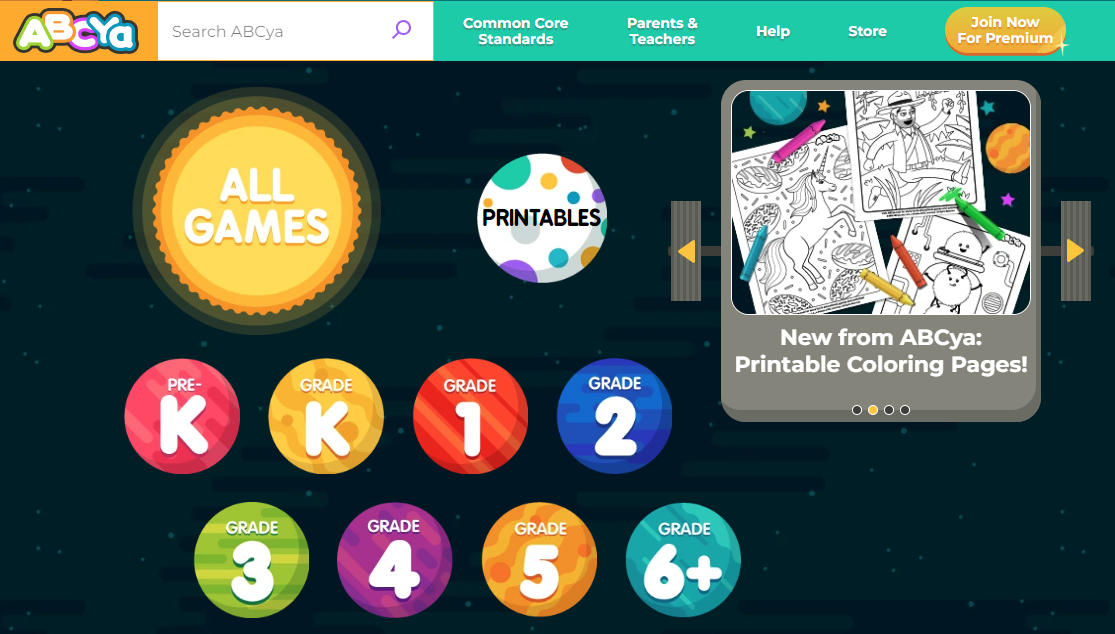 Tool Snapshot
| | |
| --- | --- |
| Price | Free with ads; premium accounts available |
| Learning | Behaviorism |
| Ease of Use | ★★★★✩ |
| Privacy | ★★★✩✩ |
| Accessibility | ★★✩✩✩ |
| Access | ★★★★✩ |
| Class Size | Unlimited, but individual player games |
| ISTE*S | Empowered Learner, Digital Citizen, Knowledge Constructor |
| Power and Bias | ★★★★✩ |
| Impact on Student Learning | ★★★★✩ |
| COPPA/FERPA | COPPA Compliant |
Price
Free with ads. Subscription required to remove ads (see pricing plans). Subscription needed for mobile devices. ABCya! provides 6 free mobile games each week.
Privacy
Site can be used by students without having to provide any personal information. However, the website states that "We, and third-party service providers, may automatically collect IP address and similar device identifiers from Platform visitors - but only for analytical and other internal-operations purposes" (Privacy Policy, 2022, para. 2).
Personally identifiable information is collected from adults when subscribing to paid account.
Accessibility
This website is accessible to young students who are still learning to read. There is no mention on the website about accessibility features for students with disabilities. Hearing impaired students may struggle with some games that have instructions given orally, but a lot of the games have written instructions as well. Hand mobility is also needed to control the keyboard and mouse.
Usability
Site supports the current releases of Safari, Chrome, Firefox and Edge web browsers as well as Internet Explorer version 9 and up. Most PC games require version 12 of the free Adobe Flash Player. Can be accessed with PC, tablet or mobile phone.
ISTE Standards
Students can take an active role in choosing which games to play. Students also learn how to use online tools in a responsible way through the use of this site.
ABC Ya! Overview Video
Watch on YouTube
***ABCYa! video Transcript***
ABCYa! & the SAMR Model
Dr. Ruben Puentedura's SAMR model offers a lens for examining how technology is adopted in a classroom. As you strive to incorporate online tools into your classroom, we encourage you to use this model as an analytic tool.
Here is an example of how ABCYa! might fit within the SAMR model:
Substitution: Students use ABCYa! to show what they know through the use of fun math and literacy games instead of pencil and paper quizzes.
Augmentation: Students demonstrate understanding of math concepts by playing math games that require the solving math problems.
Modification: Students can play games that are appropriate for their skill and knowledge level. The games allow for differentiation through the access of different tasks with similar objectives.
Redefinition: Given the limited functionality of this tool, redefinition is not possible.
Learning Activities
Math (Preschool)
"Connect the Dots" Students are asked to connect the dots by counting by ones up to 10, 20, 30,…
Math (Fifth Grade)
"Feed Me Fractions" Students add fractions by picking 2 sets of fraction cards that add to 1. Standards: 4.NF.B.3.a, 4.NF.B.3.b, 4.NF.B.3.c
English Language Arts (First Grade)
"Alphabetical Order" Students click and drag alphabet blocks to put them back in ABC order. Standards: RF.K.1 , RF.K.1.d , RF.K.2 , RF.K.2.d, RF.K.3.a, SL.K.2, SL.K.6. L.K.1. RF.1.1, L.1.1
English Language Arts (Fourth Grade)
"Antonyms, Synonyms, and Homonyms" Students match words that are either antonyms, synonyms or homonyms.
Resources
How to Use ABCYa!
Open your browser
In the address box type ABCya.com
Once you're on their page you have different options:

Screenshot of homepage ABCya.com

Parents and Teachers Page-Follow this link to learn more about ABCya.com
Family Log In- Log In through here if you have a paid family subscription
Class Log In-Log In through here if you have a paid class subscription
Links to various grade levels

To use the free website, simply click on the grade level of your choice.
Once you are directed to the grade level that you chose, you can choose between:

Letters- English Language Arts games
Numbers- Math games
Holiday- Social Studies related games
Strategy- Problem solving games
Skills-Mixed knowledge based skills

Click on the subject of interest. ex. Holidays
Once you click on a subject, you will be taken to a screen with tiles offering different games
Choose a game ex. "Halloween Word Search"
Once there you will be directed to the game page with the game's title, grade level standards, and a play button.
Click on the play button and depending on grade level you can listen for instructions, read instructions, or just, START the GAME!
You can always click on the BACK button to go back to more games, or to the Home Button to go back to their Home Main Page.
Have Fun!
Research
Derya, C. A. N. (2020). Supporting learning trajectories for the development of number concept: Digital games. Journal of Theoretical Educational Science, 13(4), 663-684.
Emond, J. A., Fleming-Milici, F., McCarthy, J., Ribakove, S., Chester, J., Golin, J., ... & Polacsek, M. (2021). Unhealthy food marketing on commercial educational websites: remote learning and gaps in regulation. American journal of preventive medicine, 60(4), 587-591.