Basecamp

Basecamp is a project management and communication tool. On Basecamp, you can set up a virtual space to organize group projects. Each space features a number of tools such as to-do lists, schedules, file sharing, and group chats (campfires) to support team work. Basecamp is an excellent tool for promoting and supporting collaborative group work. It can also increase accountability, time management skills, communication, and productivity among group members.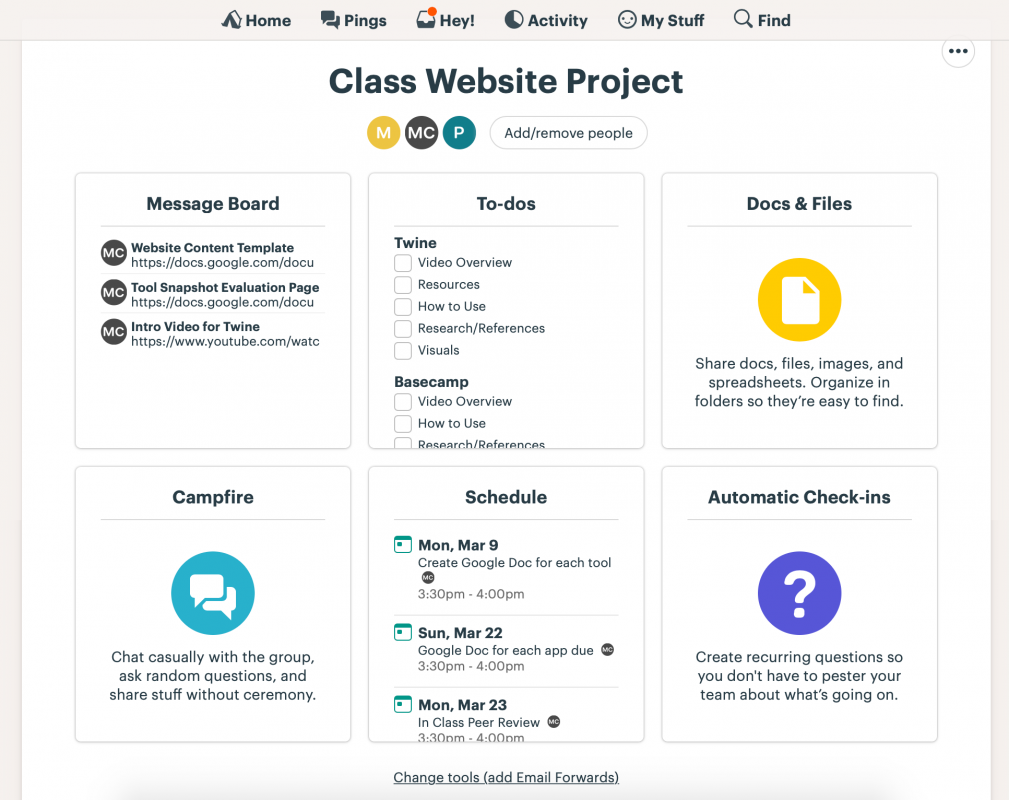 Tool Snapshot
Ease of Use
This application was rated as 5 stars (excellent) for ease of use. The application is both straightforward and easy to jump into for most beginners, but also provides clear instructions, FAQs, and tutorials for users who may need more support when first using the app.
Privacy
Although Basecamp outlines the steps the company takes to protect its users information and details the location of where the information is kept, the app does not give specifics as to what data is collected. Users are able to provide as much information as they feel comfortable with when signing up for the application, however, if they want to gain access to the free educational version of the app they need to provide information about the school system they are involved with in order to gain an educator license for the app.
Accessibility
Although the app features support for tools such as screen readers, there are no specific tools built into the application to help with accessibility. There is also no general accessibility statement provided by Basecamp.
ISTE Standards
Empowered Learner
Students can set personal or group goals by using "to-do" lists to manage their learning progress.
Students can monitor their progress with goals by utilizing the automatic check-in feature to set up self check in's. These check-ins can be set at various intervals (Automatic check-in prompts can be scheduled daily, weekly, or for specific times).
Students can utilize the features of Basecamp to customize their own learning environments in ways that support the learning process.
Students use technology to seek feedback that informs and improves their practice and to demonstrate their learning in a variety of ways.
Global Collaborator
Students can use Basecamp as a collaborative technology to create group pages dedicated to specific projects. Within each of these group pages, students can communicate with other group members, manage productivity with shared to-do lists and schedules, and collaborate on uploaded files.
Students can use Basecamp to contribute constructively to projects and work together remotely outside of class time. The history from both the forum and "Campfire" features can be saved as evidence towards group collaboration for later evaluation.
Basecamp can be used for Backchanneling. Students can utilize the chat feature in Basecamp to share their viewpoints on particular topics. Teachers could create a class page to remind students of assignments and get feedback from students.
Basecamp in 120 seconds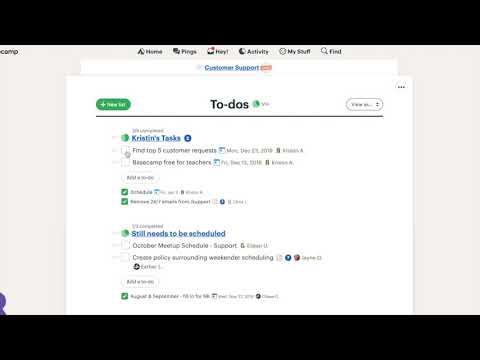 Watch on YouTube

https://edtechbooks.org/-JoDg
Basecamp & the SAMR Model
The SAMR model was developed by Dr. Ruben Puentedura to examine how to successfully integrate technology into the classroom. Here is an example of how Basecamp might fit within the SAMR model:
Substitution: Students can use Basecamp's "campfire" feature to engage in discussions in real-time rather than having a discussions during class time. Teachers can assign work to students and have them discuss the work remotely on the "campfire" chat feature instead of discussing directly in groups in class.
Augmentation: Students can engage in ongoing discussions over an extended period of time (both within and outside of school) using the forum feature of Basecamp.
Modification: Students have the ability to manage multiple projects for multiple classes at once by utilizing the "Projects" and "Teams" sections on the Basecamp home page. Basecamp can be used to share files, provide feedback, send messages, and share to-do lists for projects among group members both when working in the same classroom and working remotely together. This ability to share files is similar to the "Drive" function of Google, but Basecamp takes it a step further by allowing for more interactive functions between group members.
Redefinition: Students can manage projects by dividing work amongst group members and assigning specific tasks for each group member based on individual strengths. Students can then support each other remotely by checking in on group member's progress through their to-do lists, and sending out reminder prompts to group members that may need more support.
Learning Activities
English
Students can use Basecamp's "campfire" feature to discuss a book as they read it, the "Docs & Files" feature to post their annotations of the book, and the "To-Dos and Schedule" feature to stay organized and not fall behind in the reading.
Math
Students can post their math homework using the "Docs & Files" feature so teachers can review their work. They can also ask peers questions using the "Campfire" feature if they are stuck on a problem. Students can also use the "To-Dos and Schedule" feature to increase time management by tracking the assignments they have, and visually see the amount of time left before the assignment's due date.
History
Students can role-play the process of running for the President of the United States. They can use Basecamp to organize their campaign. For example, students can use the to-do feature to outline their campaign actions, use the "Campfire" feature to host rallies and debates, and upload campaign posters and advertisements to their project space.
Resources
How to Use Basecamp
Follow these steps to get started:
Visit the Basecamp homepage on the web browser of your choice.
In the top right-hand corner of the page click the "Try it FREE" button.
Enter in your information.

First type in your name.
Enter in your email address (Use an educational email address for full access free).

Create a password.
Choose create my new account.
Email teachers@basecamp.com from your education account when you finish to sign up for a free full version of Basecamp for Education users.
Research
Eickholt, J., Jogiparthi, V., Seeling, P., Hinton, Q., & Johnson, M. (2019). Supporting project-based learning through economical and flexible learning spaces. Education Sciences, 9.
Hanif, S., Wijaya, A. F. C., & Winarno, N. (2019). Enhancing Students' Creativity through STEM Project-Based Learning. Journal of Science Learning, 2(2), 50–57.

CC BY-NC: This work is released under a CC BY-NC license, which means that you are free to do with it as you please as long as you (1) properly attribute it and (2) do not use it for commercial gain.
End-of-Chapter Survey
: How would you rate the overall quality of this chapter?
Very Low Quality
Low Quality
Moderate Quality
High Quality
Very High Quality
Comments will be automatically submitted when you navigate away from the page.
Like this? Endorse it!