Twine

Twine is an "open-source tool for telling interactive, nonlinear stories" (Twine, 2020, para. 1). With Twine, users can create and choose their own adventure stories, games, and hyperlinked texts (example Twine "Arcadia" by Jonas Kyratzes). Twine was created in 2009. As an open-source tool, several individuals have expanded and modified Twine. Twine is available on Mac OS X, Windows, and Linux. Designing with Twine can increase students' interest, enhance engagement, and deepen their learning.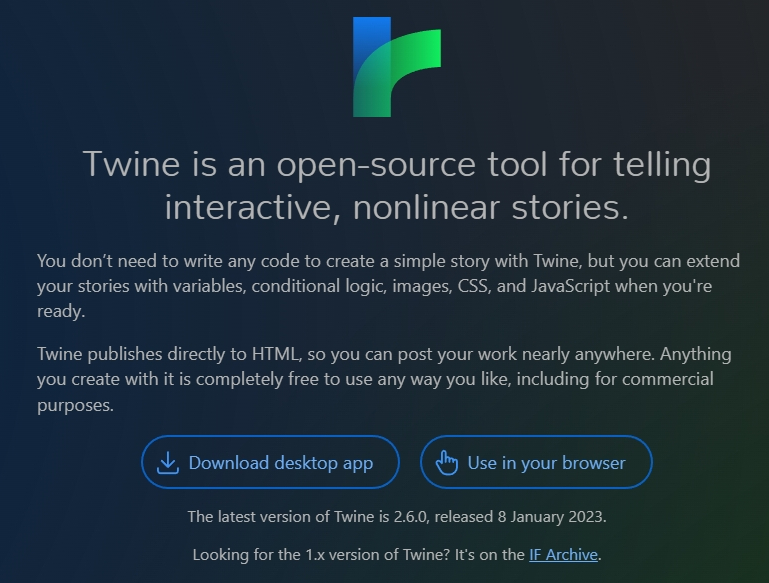 Tool Snapshot
Price
Free
Learning
Cognitivism & Constructionism
Ease of Use
★✩✩✩✩
Privacy
★✩✩✩✩
Accessibility
★✩✩✩✩
Class Size
Unlimited
Login
No
ISTE*S
Knowledge Constructor & Creative Communicator
COPPA/
FERPA
No COPPA/FERPA policy found. Check with your school IT administrator.
Ease of Use
Twine is difficult to learn to use due to limited instructions on the site. Instructions are needed to navigate smoothly.
Privacy
There is no privacy statement available for Twine.
Accessibility
Twine does not have an accessibility statement or VPAT available. The Twine homepage features images without alt text descriptions, which indicates a lack of willingness to design for accessibility.
Twine in 120 Seconds Overview Video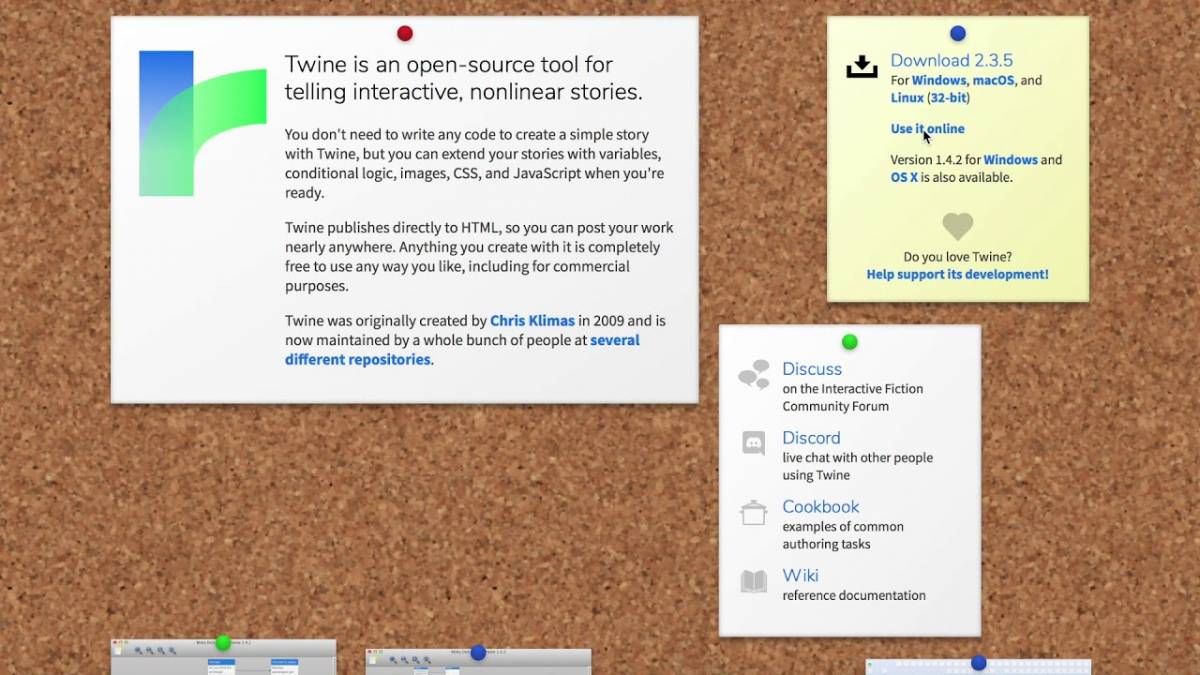 Twine & the SAMR Model
Dr. Ruben Puentedura's SAMR model offers a lens for examining how technology is adopted in a classroom. As you strive to incorporate online tools into your classroom, we encourage you to use this model as an analytic tool.
Here is an example of how Twine might fit within the SAMR model:
Substitution: Students can use Twine to read text-based stories instead of reading from a book.
Augmentation: Students can use Twine to interact with text, games, and stories to deepen their understanding.
Modification: Students can choose several outcomes of what they read. Students can choose the direction in which they want the story to go and explore different endings.
Redefinition: Students can create their own interactive stories/games on their own to share with classmates.
Far too often, technology is used as a direct substitute for other low-tech tools (e.g., pencil and paper). While substitution has some benefits (e.g., students develop their technology skills and knowledge), we encourage you to think about how you might use Twine to modify or redefine learning.
Learning Activities
Math
All students start with the same math problem and are given the final answer. They use Twine to map out the middle portion of the problem-solving process. Then, they share their work with peers and decide which of their peers' mindmaps to use to create an interactive math story on Twine.
Science
Students can create interactive stories about the process of plant growth. The story can change depending on how much sun exposure or water is received by the plant. Or, students could create a story about the cell cycle including different outcomes such as cancerous versus healthy cells.
English/Language Arts
Students can recreate a famous story on Twine, but add a twist in the plot or alternate ending.
History
Students can create timeline stories of historical events. They can add different variations depending on whose side of the story is being told.
Art
Students can create an interactive game about a famous artist. They could also use Twine to create an explanation of the steps that they used to create their final art project.
World Language
Students can use Twine to explain how verbs are conjugated depending on whom the verb is referring to. Also, they can use Twine to illustrate the history of a country that speaks that specific language. For example, students could use Twine to create an interactive story about the history of Flamenco for a Spanish class.
Resources
How to Use Twine
Go to www.twinery.org.
Use Twine online or download the latest version for Windows, macOS, and Linux.
Click '+Story' to create a new story.
Name your story and click add.
To edit your story, go to your story on the grid and click the edit button.
Begin typing your story.
To create an interactive story, put two square brackets on the left and right of the text.

This will bring you to the next default page and you can go on from there adding however many interactive clicks you desire.
For interactive choices on the same page, [[add two brackets each]] to both sides of the text.
To have your interactive clicks labeled [[different than what is in the bracket]] put a -> right after the text with your desired label to click on. Ex: [[words in text]] ->desired label.
Clicking the rocket will start your story on what page you want.

To save your file, right-click on test and click publish to file, saving to your downloads.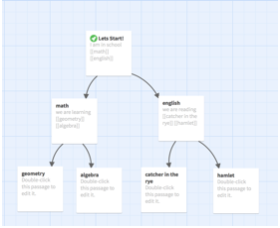 Research
Starks K., Barker D., Cole A. (2016) Using Twine as a Therapeutic Writing Tool for Creating Serious Games. In: Marsh T., Ma M., Oliveira M., Baalsrud Hauge J., Göbel S. (eds) Serious Games. JCSG 2016. Lecture Notes in Computer Science, vol 9894.
Tran, K. M. (2016). "Her story was complex": A Twine workshop for ten-to twelve-year-old girls. E-learning and Digital Media, 13(5-6), 212-226.
Wang, H. (2014). Learner autonomy based on constructivism learning theory. International Journal of Social, Behavioral, Educational, Economic, Business and Industrial Engineering, 8(5), 1552-54.
Wilson, R., & Saklofske, J. (2019). Playful Lenses: Using Twine to Facilitate Open Social Scholarship through Game-based Inquiry, Research, and Scholarly Communication. KULA: knowledge creation, dissemination, and preservation studies, 3(1), 1-10.

CC BY-NC: This work is released under a CC BY-NC license, which means that you are free to do with it as you please as long as you (1) properly attribute it and (2) do not use it for commercial gain.
End-of-Chapter Survey
: How would you rate the overall quality of this chapter?
Very Low Quality
Low Quality
Moderate Quality
High Quality
Very High Quality
Comments will be automatically submitted when you navigate away from the page.
Like this? Endorse it!