Online Tools for Teaching and Learning
Vocaroo

Vocaroo is an online tool that allows users to record, send, and download voice messages. Teachers and learners can use Vocaroo in different activities, such as podcasting, digital storytelling, broadcasting, and giving feedback. Recordings can be downloaded, sent, or even scanned with a QR code reader.
Tool Snapshot
Price
Free
Learning
Constructionism
Ease of Use
★★★★✩
Privacy
★★✩✩✩
Accessibility
★★✩✩✩
Class Size
Unlimited
ISTE*S
Empowered Learner, Creative Communicator
COPPA/
FERPA
No COPPA/FERPA policy found. Check with your school IT administrator.
Vocaroo Overview
Vocaroo is simple and user-friendly. The tool can be accessed directly without logging in to an account. The audio files created on Vocaroo can be shared as a link on blogs, websites, and social networking sites. Recordings are available for a few months (three months usually). The Vocaroo widget can be embedded on another website, so that, for example, your students can record voice messages via Vocaroo directly from your class website. This tool does not require knowledge of HTML. The recordings can be downloaded in different formats, including mp3, Ogg, flag, and wav.
Access and Equity
The site is free and can be accessed from any place in the world through an online browser. In the past, Vocaroo was a flash-based tool. Today, it no longer requires Adobe Flash to function. Recorded messages can be listened to on most mobile devices that support HTML5.
Ease of Use
Once you have a microphone, it is easy to use.
Accessibility
The website does not provide special options for users with hearing or visual disabilities.
Privacy
Vocaroo uses the following services to track cookies: Google Adsense (for advertisements), AddThis (for social media sharing), and DISQUS (for commenting on public messages). DISQUS is only enabled if you click "comments" under a message.
Power & Bias
Vocaroo is not responsible for the content of the messages recorded. Students need to learn how to use the tool ethically.
Vocaroo Overview Video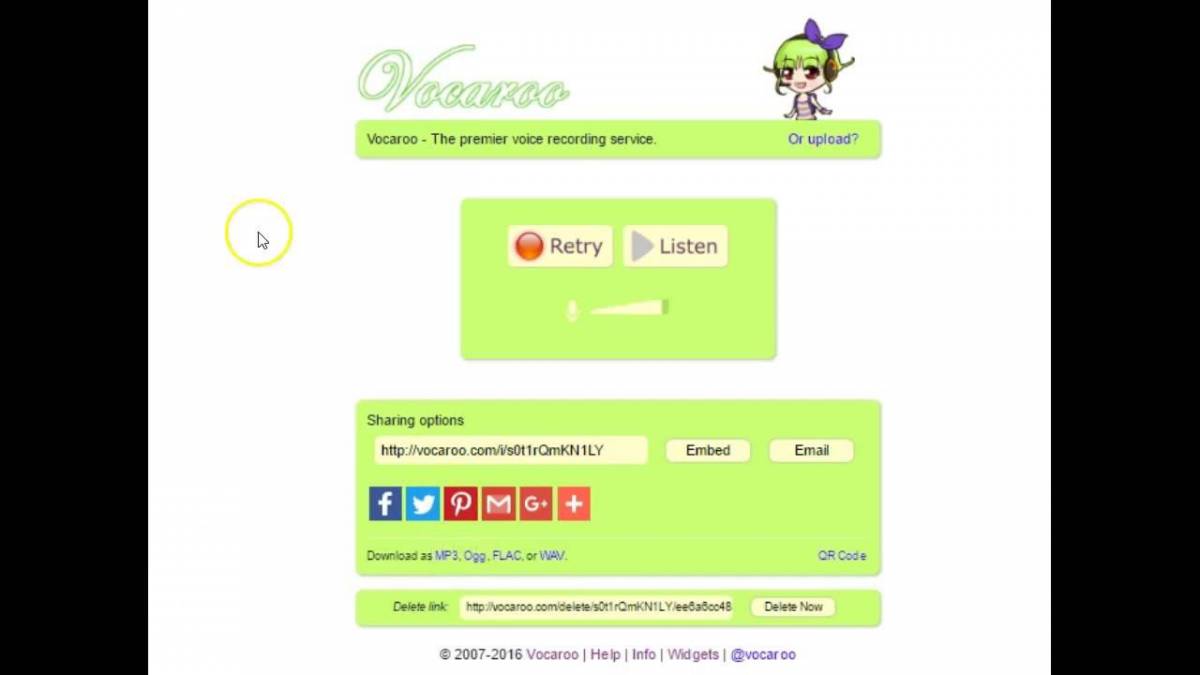 Vocaroo & the SAMR Model
Dr. Ruben Puentedura's SAMR model offers a lens for examining how technology is adopted in a classroom. As you strive to incorporate online tools into your classroom, we encourage you to use this model as an analytic tool.
Here is an example of how Vocaroo fits the SAMR Model :
Substitution: Students can use the online tool to record an audio presentation instead of presenting in person.
Augmentation: Students can download and listen to Vocaroo audio files from the teacher and/or classmates multiple times to deepen their learning.
Modification: Students can include audio in tasks that were traditionally text-based (e.g., summarizing content that they have studied in class).
Redefinition: Students can produce audios to share with classmates and family. In the past, the possibility of having students or teachers broadcast their audio productions to thousands of people around the world was inconceivable. Tools like Vocaroo make this feasible.
Learning Activities
Feedback and Comments
Learners and teachers can provide voice comments (rather than text-based comments). They can share a link to the voice comments in a Google Doc, blog, or learning management systems, such as Moodle, Blackboard, or Google Classroom.
English Language Learning
Learners can record and listen to themselves. Students can take notes on their grammar and pronunciation. They can also use Vocaroo to rehearse their presentations. Record their presentations, listen, and practice.
Class Activities
Podcasting, making a character interview or historical event dramatization, online discussions, explaining a process or procedure in Math or Science, the possibilities are endless for classroom activities.
Combining Vocaroo With Other Tools
The Vocaroo recorded messages can be embedded in Google Earth, Padlet, or Thinglink. Look at an example of digital geography.
Resources
Tips on how to use Vocaroo:
Research
Butarbutar, R. (2021). How does Technology Vocaroo Improve Students' Speaking Ability? A Study from Learner, Teacher, and Researcher's Perspective. Journal of Positive Psychology and Wellbeing, 5(3), 1635-1640.
Mahoney, J., & Hall, C. (2017). Using technology to differentiate and accommodate students with disabilities. E-Learning and Digital Media, 14(5), 291-303.
Serafini, T. M., & Blair, R. (2017). Can You Hear Me Now? An Innovative Approach to Assess and Build Connections with Online Learners. Systemics, Cybernetics, and Informatics, 15(6), 6-11.

CC BY-NC: This work is released under a CC BY-NC license, which means that you are free to do with it as you please as long as you (1) properly attribute it and (2) do not use it for commercial gain.
End-of-Chapter Survey
: How would you rate the overall quality of this chapter?
Very Low Quality
Low Quality
Moderate Quality
High Quality
Very High Quality
Comments will be automatically submitted when you navigate away from the page.
Like this? Endorse it!