Wakelet
is a digital curation tool that allows users to collect and organize multimodal content, including websites, articles, videos, Twitter threads, text, and images. Wakelet is a great tool for students to collaboratively organize research projects and construct their own knowledge. It can also be used as a multimodal way to present a timeline or story.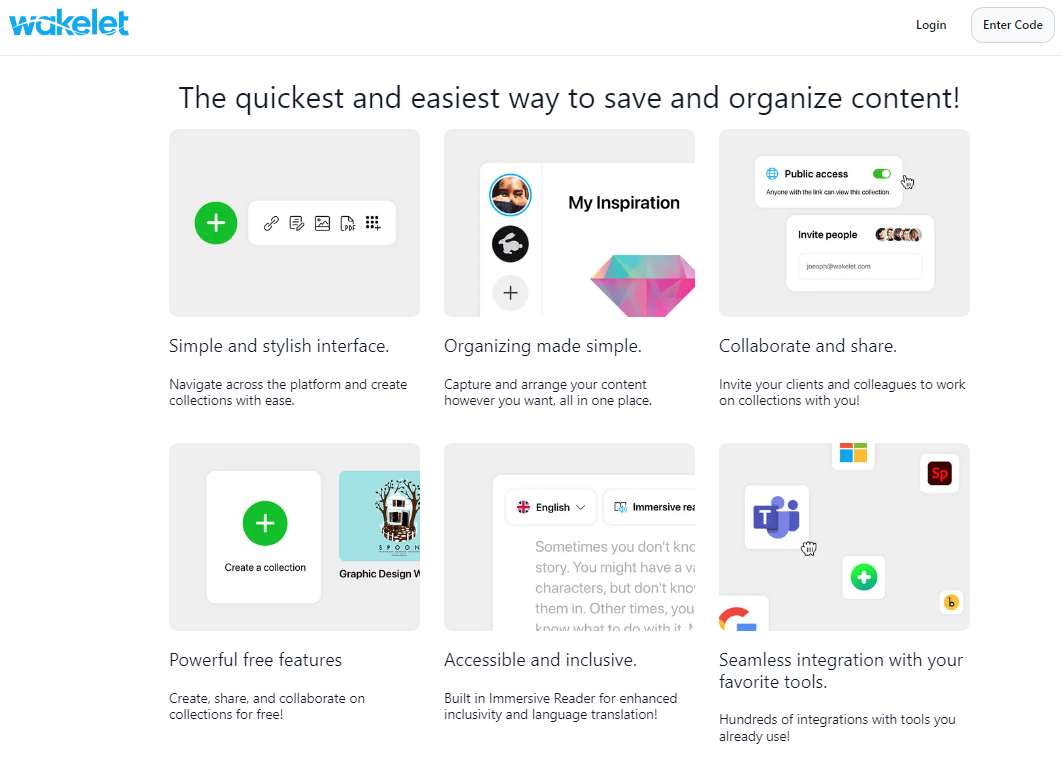 Tool Snapshot
Price
Free
Learning
Social constructivism, Connectivism, Constructivism
Ease of Use
★★★★★
Privacy
★★★★☆
Accessibility
★★☆☆☆
Class Size
Unlimited
Login
Yes
ISTE*S
Empowered Learner, Knowledge Constructor, Creative Communicator, Global Collaborator
COPPA/
FERPA
Wakelet is fully COPPA, FERPA, CSPC, and GDPR compliant
Wakelet Overview Video
Watch on YouTube
Wakelet & the SAMR Model
Dr. Ruben Puentedura's SAMR model exemplifies the integration of technology into teaching. This model is an effort to prove more meaningful uses of technology in the classroom rather than using "tech for tech's sake." As you strive to incorporate online tools into your classroom, we encourage you to use this model as an analytic tool.
Here is an example of how Wakelet might fit within the SAMR model:
Substitution: Students read a collection of articles on Wakelet instead of in print.
Augmentation: Students curate multimodal collections of images, videos, articles, and more.
Modification: Students curate information and resources about a specific topic on Wakelet and share it widely via social media for feedback. Students critically analyze content and research to create an archive for discussion.
Redefinition: Students have access to real-time collaboration on multimodal content curation.
Far too often, technology is used as a direct substitute for other low-tech tools (e.g., pencil and paper). While substitution has some benefits (e.g., students develop their technology skills and knowledge), we encourage you to think about how you might use Wakelet to modify or redefine learning.
Learning Activities
Math
Calculate the number of Wakelets that pertain to a topic. Create a Wakelet with content that helps students learn, practice, and assess math skills. Design a wake for a math topic, process, or mathematician.
Science
Curate research about a scientific topic (e.g., #climatechange). Learn how to conduct an experiment by gathering research and videos to follow. Ask local scientists to add resources to a shared class wake.
English/Language Arts
Create a wake for a character. Create a historical timeline wake for a book read in class.
Social Studies
Gather research on the Civil War. Curate a storyline of the events that occured on 9/11.
Online Class Community
Collaborate on a research project. Provoke conversation on the political actions changing history.
Resources
How to Setup & Use Wakelet (by Wakelet)
Watch on YouTube
Research
Azizan, N., Lubis, M. A., Gio, P. U., & Marhamah, M. (2021). RESPON MAHASISWA PGMI TERHADAP PLATFORM WAKELET UNTUK PEMBELAJARAN ONLINE DI MASA PANDEMI COVID-19. Dirasatul Ibtidaiyah, 1(1), 1-18.
Graham, K. (2018). TechMatters: Doing Digital Curation with Wakelet. LOEX Quarterly, 45(2), 3.