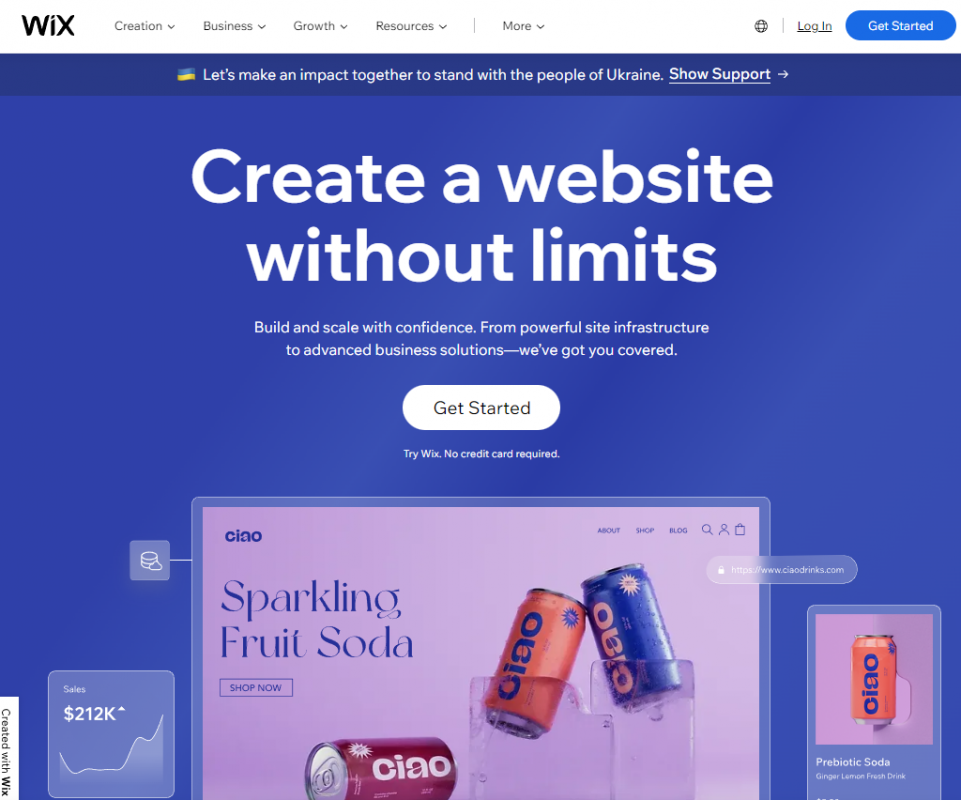 Tool Snapshot
Price
Free Basic Account; Upgraded Plans from $16-45/month.
Learning
Constructionism
Ease of Use
★★★★✩
Privacy
★★★✩✩
Accessibility
★★✩✩✩
Class Size
Unlimited
ISTE*S
Knowledge Constructor, Innovative Designer, Creative Communicator
COPPA/
FERPA
No COPPA/FERPA policy found. Check with your school IT administrator.
Ease of use
Due to the "Drag & Drop" functions and the professional ready-to-use template, it is very easy for learners to navigate and plug in their content. It has specific tutorials for each feature of the web design process.
Wix claims that they truly respect the privacy of its users and are fully committed to protecting users' personal information (e.g., name, email address, locations) and use it properly. They collect and use users' personal information and non-personal information (eg. visiting data) in order to provide their services and make them better and safer.
Wix Overview Video
Watch on YouTube
Substitution: Teacher creates a website on Wix with text for students to read (rather than having students read from a textbook).
Augmentation: Teacher creates a webquest for students to use to learn new content knowledge.
Modification: Students create their own websites to showcase their expertise in specific subject areas.
Redefinition: Students create educational web tools or resources that can be used by other learners. Students share their Wix websites via social media.
Wix Highlights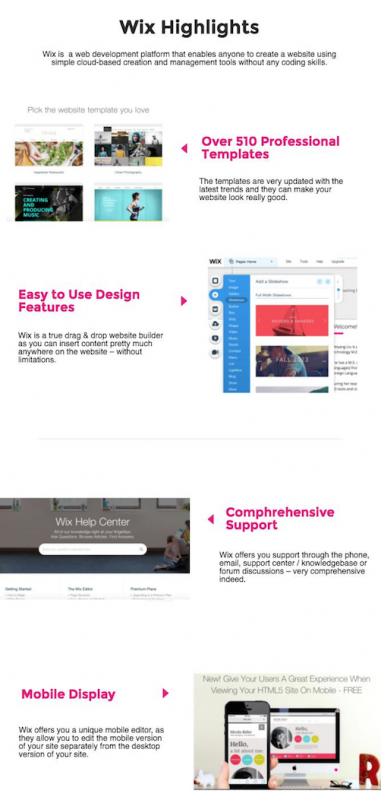 Learning Activities
Digital Storytelling
Wix can be used as a tool to for students to build a photography gallery to go along with text they write.
Digital Portfolio
Wix enables students (and teachers!) to construct an e-Portfolio to showcase to future employers their professional work on specific subject area. (Example Teaching Portfolio)
Reflection
Rather than writing a reflection paper, students can design a website. In this reflection website, students can put infographics, audio recordings, video clips, and text together to describe and assess their learning experiences as well as sharing how to apply what they learned in this course to future profession. This activity is an alternative way for traditional reflection paper, which allows for multiple means of action and expression (Example: Reflection on a course)
Blogs & Discussion Forum
Teachers can have students build a series of blogs and interactive with learning contents. With Wix, students can enable the discussion functions within the blogs, to engage their classmates in conversations. In this way, it allows students multiple means of engagement. (Example: Art Blog)
Educational Tools & Resource
Students can use Wix to design a website/online course to deliver knowledge contents or address a skill gap. These website products can be used as educational tools and resources. (Example: A website for learning Chinese Food Culture)
Resources
Wix Tutorial - A Step-by-Step Guide for Beginners Video (by Tooltester)
Watch on YouTube
Research
Holland, J. (2020). Learn How to Create a Wix Website: Current Best Practices. Journal of National Social Science Technology, 8(2), 50-58.
Sams, B., & Warner, L. B. (2019). Implementing ePortfolios in English Education: Delights, Dilemmas, and Recommendations. English Leadership Quarterly.